Large Dog Bed Crate Mat Washable Pet Beds Soft Dog Mattress Anti-Slip Kennel Mats
Premium Furry Fleece & Durable Material: Our Dog Bed Mat made of Super Soft Fleece Plush,the Surface Feels Gentle as touching Baby Skin and the Thicken PP Fiber Inside Makes it Durable for Long Time Use.Good for Small or Large Dogs,Especially for Older or Disabled Pets.Support Joints and Soothes Pressure Points for Deeper, More Restorative Sleeping

Washable Dog Beds for Large Dogs Clearance: Our Fabric Fleece Mats 100% Allow both Machine and Hand Wash in Cold Water, Gentle Cycle, (No Bleach) and Tumble Dry. the Crate Mat Keep in Original Shape Even after Many Cycles of Washing. The and Mat are Low Maintenance and Long Lasting

Anti-Slip Dog Crate Bed: Non-Skid Bottom Design Will Keep the Crate Pad in Position Firmly ,Prevents Moving and Shifting,Works Great on Hardwood Floors,Standard Crate or a Stand alone Pet Bed on Floor or Ground

Multi-Use Pet Beds: Large Size,Shed (Pill) Restraints,Stylish in-Seam,Give Your Pet a Greater Sense of Security,Protect Funiture & Beds,Universal Used In Pet Cages, Rear Seats In Cars, Sofa,Furniture and Seats

Size Details: 35 ☞(35 inch x 23 inch) 42 ☞(42 inch x 30.6 inch) 47 ☞(47 inch x 33 inch)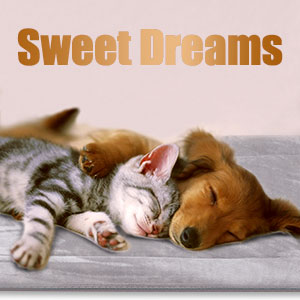 Luxury Color Dog Bed By JoicyCo
Premium Fleece Plush Material Made,Super Gentle Surface Feels as Touching Baby Skin.
The Thicken PP Fiber Inside Keeps Your Pet Comfortable in Different Seasons. Warm and Cozy in the Winter and Breathable & Cool in the Summer.
We Have 4 Colors and Multiple Size that are Perfectly Suitable for almost any Breed of Dogs or Cats.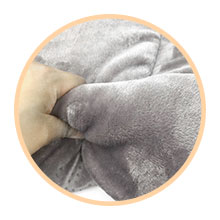 Soft Fleece Plush Material Cloth

Soft fleece plush cloth provides a soft and smooth gentle surface for your pets.Reinforced stiching for durability.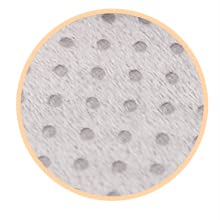 Anti-Slip Bottom

The anti-slip rubber bottom design keeps the pet beds in place firmly,and also protect your wood floor.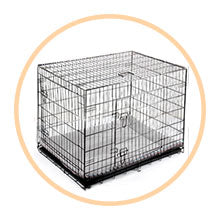 100% Orthopedic Grade Design

100% orthopedic grade material provides a comfort support, and can also soothe pets' joint and muscle discomfort.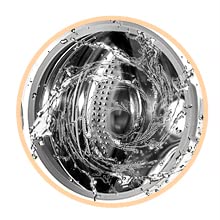 100% Washable Dog Bed

Our Pet beds 100% allow machine or hand wash in cold water, gentle cycle,or tumble dry.
Won't Blench after washing.keeping the original shape even after many times cycles washing.

When you kneel on the bed, can you feel the floor?

A human probably is able to somewhat, but to a dog, this is plenty to keep their joints and paws protected from hard flooring.

How soft is it?

It is very soft! I was pleasantly surprised.

Does it shed? And if pulled do peices of fabric come out?

My Aussie has destroyed numerous fluffy dog beds and has yet to pull anything from this one. It seems more sturdy than usual mats or beds.
It does not shed or pill, even after several washes.

Does the fleece material stay cool in summer?

Yes. The material is more like a velour. It's very soft and not warming like the sheep type fleece. We live in a warm climate and I purchased this pad for my dog's crate so he would stay cool when it gets hot. He loves it - the minute I took it out of the box, he jumped right on it!