Large Dog Bed Mat Crate Pad Anti Slip Mattress Washable for Pets Sleeping
Large dog bed is slip resistance & durable,the othopedic crate bed comes with durable plush fleece, not easy to broken but not for scratching or bitting,shed (pill) resistant,is low maintenance and long lasting

Soft 42 inch crate pad for small to large dogs,especially for older or disabled pets,support joints and soothes pressure points for deeper, 3cm pp fiber inside to make the mattress thick enough for better sleep

Dog crate mat is anti-slip,non-skid bottom prevents moving and shifting and works great on hardwood floors,will keep your dog safe when nap on the mat,super soft surface will offer a better relax

Dog bed is washable in washing machine,keep in original shape even after many cycles of washing.Cover pet seat bed can protect furniture,floors or car back seat from dander, dirt and fur

Dog beds for large dogs clearance,for elevated dog bed,grey crate pad 42 x 28 inch for dog under 55.12 lb,great choice for outdoor traval and house floor

"Hero Dog" brand focus on offer best quality pet products. As pet owner, we know what our pet need and what kind products best to them.

Each product will have more than 5 months design and test, treat pet as our families and offer them the best.

Dog bed mat large, Length x Width :42 x 28 inch
Pet bed for crates, carriers, sofa,and other pet homes

Fleece cover; premium PP Fiber bolster/cushion;

Anti-slip bottom to keep in position

Grey/Blue/Brown/Red color helps hide shedding

Machine washable

Portable design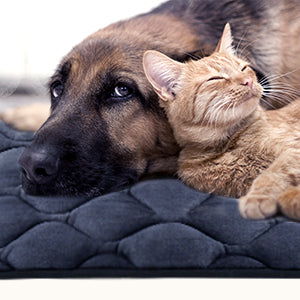 Joints Protector Our orthopedic dog bed is good for dogs if it's vertebral and joints are week, clam down the noisy breeds,the ultra-soft fleece won't pill up like other feece pet beds.Dog bed with durable fluffy- soft fleece surface is soft on paws and noses,offer year-round enjoyment.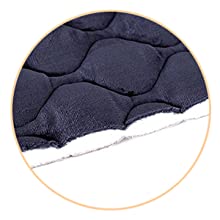 Superior Material

Dog bed padded with premium PP Fiber, soft cozy and will not be out of shape or mixed together after washed, that made the mat warmer and more comfortable.Along with soft fleece cover,all material are healthy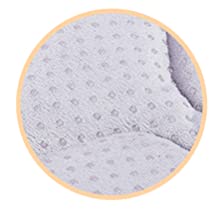 Anti-Slip Bottom


The anti-slip rubber bottom will kepp the bed in position,is the perfect choice for pets who like to sprawl and snooze the day away.Good choice for outdoor car travel.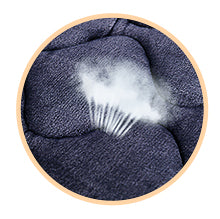 Breathable and Soft


Dog bed inner is breathable, good for puppy's skin and vertebra, it is warm and comfortable for puppy, puppy sleep in it just as in quilt, they will enjoy snuggling in it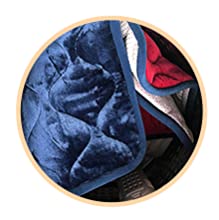 Dog Bed 100% Washable


The bed 100% machine and hand wash in cold water, gentle cycle, (No Bleach) and tumble dry. And still keep in original shape even after many cycles of washing.4 to 5 pieces for a 6.5KG washing machine is ok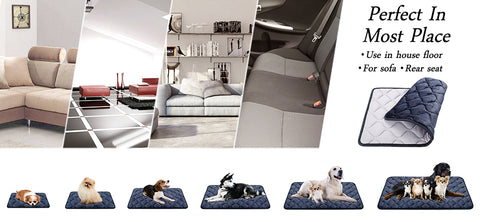 X-Small

 

21 x 14 inch
Small

 

27.5 x 19.7 inch

Medium

 

36 x 22 inch
Large

 

42 x 28 inch

X-large

 

47 x 33 inch

XX-Large

 

55 x 39 inch
 Whatever in carrier,crate,house kennel, car seat, you can find a suitable size.Colors of the bed mat not only helps hide shedding,but also good complement any home decor.
Is this bed too hot for dogs to use in summer?

My dog still lays on it even in the summer and it seems fine. As an aside, it washes easily and so far has held up really well.

How thick is this bed? Am looking for a thinner one? . Thanks---

It is thin, roughly 1/2-3/4 inch ... but padded, comfy. Using it for older dog to lie/sleep on as he can't step on and off traditional beds anymore. Just ordered a 2nd to put in crate.

Can item be tumble dried

hi, that's OK, it is pretty soft

what size would a 83lb german shepherd fit?

I have a 5-month-old german shepherd who is weight is about 60lb right now. I bought the 47 inch and he has a bit before it gets too small. We went this route thinking that if it gets too small we would the one we got in the car and then buy the biggest.

The description says not chew resistant but some comments say it is. Has anyone had issues with their dog chewing it and ruining it?

The bed is nice but my Olde English Bulldog (1.25 years old) chewed right through it the first day...Satrted with the corners and kept going.