Large Dog Bed Crate Pad Washable Matteress Anti Slip Cushion for Pets Sleeping
Premium Material dog bed: Dog mat is made of premium fleece and 3cm fabric, soft on paws and noses, is breathable and healthy, good for your puppy's skin, especially for disabled pet, is soft enough

100% Machine Washable dog crate pad: Completely machine washable, dry friendly, will be more comfortable after washed, easily remove hair with an adhesive roller, brush or just a tissue

Anti Slip dog crate mat: Dog sleeping mattress with anti slip bottom, after long time activity, it will keep position, keep your dog safe when snap on the mat

Not Only for Indoor Used: You can put it in house for protecting furniture, like sofa, floor etc, also can be rolled up and taken with you on every trip, and suitable for all seasons

Dog bed for extra large dogs, dog bed xl 47 x 33 inch, suitable for extra large pets who like curling up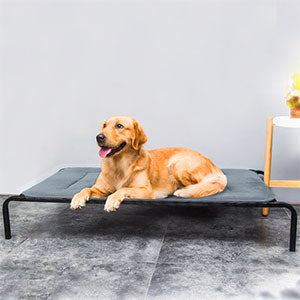 Product Feature

Healthy & Orthopedic large dog bed: You can put the dog mat on an elevated bed or surface to provide optimal support and comfort, good for young and old dog's vertebra, they will feel cozy and happy

Different sizes for them: Medium, large and extra large size dog crate bed, one mat offers all the comfort and support needed

Neutral colors that compliments the decor of any space

Note: This dog crate pad is not chew resistant, if your dog is at he stage where he enjoys chewing, it is suggested to teach him not do it or give a chew toy to protect the mat, as almost all dog beds are like this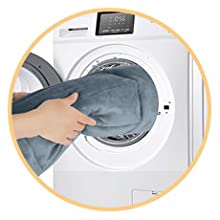 Clean Easily dog mattress

You don't need remove the crate mat cover, just fold it, with the fleece side facing out, put it in machine and at the end of the cycle your mat will be as good as new
High Quality Workmanship

Every needle and line is uniform, complies with rigid production standard, won't lose fleece or fades after multiple uses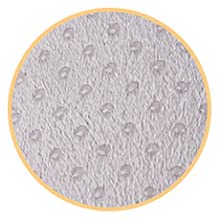 Anti Slip Bottom

Dog sleeping bed's bottom is made of anti slip material that prevents moving and shifting when your pet steps on, steps off, or curls up for a nap, they will feel secure and happy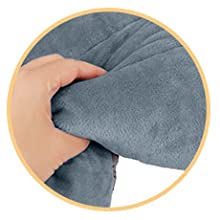 Premium Material

Pet bed is made of high density PP Fiber and soft fleece, looks thin but comfortable, it is also healthy to protect your pet's skin,and is suitable for all seasons

It\'s not dark brown it\'s more of a light brown, i can\'t return it because it\'s a gift and already has been used?.

Email the seller

Can the bed be put in a machine dryer after machine wash?

r: Yes we do wash and dryer. Does good

Can it fit in 48' crate?

I did not get that crate. Got 24 inch

What is the actual thickness of pad?

Hello, it is thinner than its original thickness owing to be compressed for a long time, suggest to wash it first, after dry will be thicker

Are these beds folded on arrival or are they sent as they are?

I received them folded in the package. Very lightweight and easily unfolded for immediate use.

Is the size same as advertised? 42x28\"

yes the size is as advertised. I have two 18wk old aussiedoodles in one crate. The still have plenty of room. They are 38lbs and 32 lbs. this size crate is the perfect size for them.